Adorable Brown and Pink Bedrooms and Bedding for Girls
Brown and pink bedrooms for girls can be as cute, romantic or downright funky and fun as any room can be. Year after year, pink and brown is a favorite color scheme in rooms for young ladies of a certain age. Themes come and go but regardless of what's in vogue, you can bet that this combination will be represented.



Its popularity is owed to the fact that it lends itself so well to everything from vintage decor where French toile and damask bedding are the focal point to the bedroom of a self-proclaimed hippie chick decorated with 1960s era lava lamps, peace signs and black light posters. Is there any wonder that home decorating blogs feature so many brown and pink bedrooms?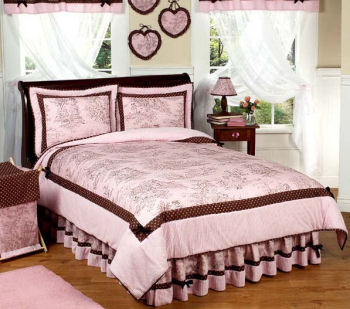 Go Here to See More
A mother with a tween or teen girl who is not old enough to object to pastel pink can enjoy just a few more years of ribbons, bows with some hearts and flowers thrown in for good measure with the chocolate brown and pink bedding sets in today's market.
Don't be surprised to see toile prints stitched to bands of polka dots, stripes or any number of other patterns. It's this blending of the old and the new that will keep your little girl from turning up her pretty little nose at brown and pink bedrooms with an old fashioned look for just a little while.
These photos are a great resource for information on pink and chocolate brown bedroom ideas, styles and themes which, when it comes to this combination, are many!
Please make plans to visit us again soon to see the latest in pink and brown bedroom decorating ideas and to share your own pictures of the cute bedrooms that have been decorated for your little girls.
SHARE A TIP, PICTURE OR ASK FOR HELP
Do you have a tip on where to find some cool bedding or decorations or have a decorating question? Here's the place to ask...just type!
VISITORS QUESTIONS, COMMENTS and PICTURES
Click below to see contributions from other visitors to this page...

Brown and Hot Pink Leopard Bedding

Before I lucked up on this chocolate brown and hot pink leopard bedding set I was pretty bored by the whole bedroom makeover thing that my mom kept insisting …
Pink and Brown Zebra Bedding Not rated yet
I would like to decorate my room with pink and brown zebra bedding, but I can find a full or queen size set. All I can find is the xl twin size that must …