Teenage Girl Loft Bedroom Ideas
by Mom of Unhappy Teenage Girl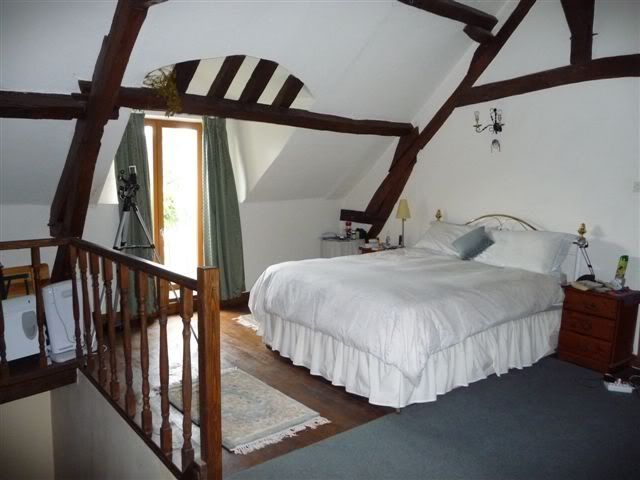 I came here looking for teenage girl loft bedroom ideas! How do I go about decorating a black and white room for a teen girl similar to the one in the bedroom picture and make it more attractive?

We bought solid white bedding and painted the room just the way my daughter wanted it to be painted: in stark white with the beams (rafters?) painted in glossy black enamel but something is missing. The black and white bedroom just looks lifeless and I have one very unhappy teenage girl on my hands.

At first we thought that we need to add something gray to soften the contrast of the black and white color scheme. I think we made a big mistake in buying the blue-gray curtain panels and area rug.

Rather than improving the situation, I believe that we just gave the room a "muddy" non-descript look.

If someone can make suggestions on how to give this room more personality and style I would be very grateful.

From the webmaster:

Someone will probably stop by and share some teenage girl loft bedroom ideas that will help you with your dilemma. At first glance it seems to me that you might be able to salvage your teen girl's bedroom decor by simply adding some bright (and I mean BRIGHT) red or hot pink accent pillows and wall decorations. It seems to me that what you are lacking here is a bold color to brighten things up a bit.

Try this and I think you'll see your daughter's mood improve! By all means stop back by and share pictures of the finished design so we can see which accent color you chose and if my suggestion worked!
Join in and write your own page! It's easy to do. How? Simply click here to return to BLACK AND WHITE BEDROOM IDEAS.


When you click on
links to various
merchants on this
site and make a
purchase, this can
result in this site
earning a commission.
Affiliate programs
and affiliations
include, but are not
limited to, the
Amazon and the eBay
Partner Network
such as the ones
to your left on this
and other pages.
Please see our
Affiliate Disclosure
page for more
information.

We are a participant in the Amazon Services LLC Associates Program, an affiliate advertising program designed to provide a means for us to earn fees by linking to Amazon.com and affiliated sites.